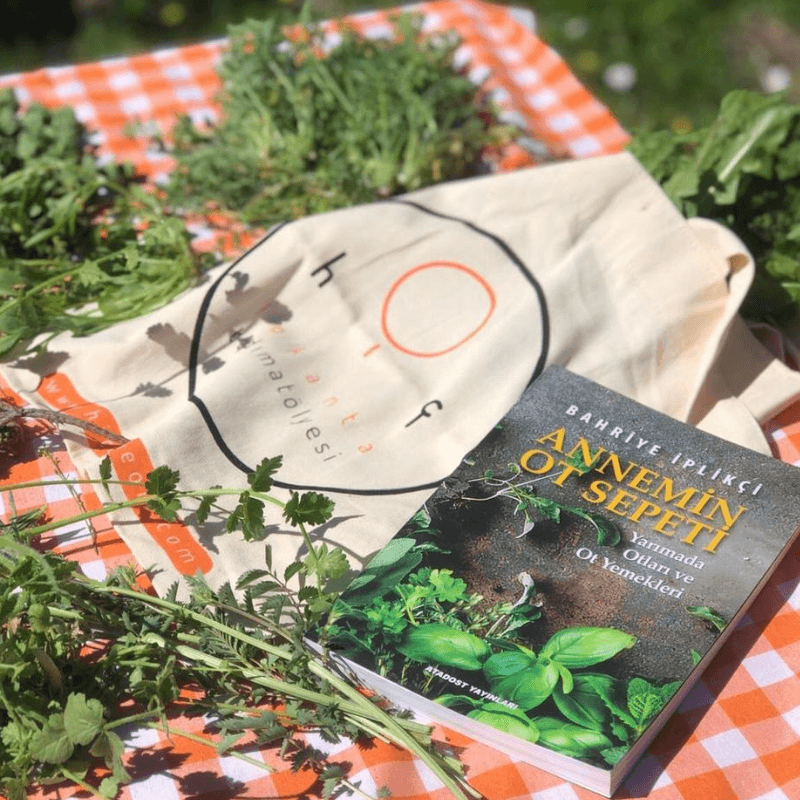 THE AEGEAN EDIBLE WILD HERBS BY BAHRİYE İPLİKÇİ
Urla has a deep gastronomic heritage. Our forgotten values are again remembered one by one and given the value they deserve. One of them is the edible wild herbs with full of health benefits and flavors.
Bahriye İplikçi is an Urla lover who immortalized these herbs in her book "My Mother's Herb Basket".
Mrs. İplikçi describes the ongoing cycle of herbs which are the harbinger of spring in Urla, with the following words: "In Karaburun, Çeşme, Seferihisar and Urla, "Artist Nature" is at work. First, she paints everything purple and pink. Then yellow with dandelion and wild mustard flowers. Then everything becomes white with daisies. She then paints it red with poppies, and finally blue with knotweed, mullein and ryegrass!"
It is so beautiful and we call it "wild herb": it generously, and quietly offers us its blessings, and its flavors. We couldn't get enough of cooking them.  We fried them. We made pastry. We made food. We made wraps. We never wasted them. Neither their roots, branches, leaves, nor flowers. We made wraps from its flowers just as we did from its leaves.  Nature draw colorful flavor pictures in our pots like a master artist. Leaves and flowers that met with rice became green wraps with mallow and dock, yellow with zucchini blossoms and pink with hibiscus flowers. We've set great tables with them. To make our friends happy!"
At Aegean Wild Herbs Table Hands-on Cooking Class, we also follow this cycle. Each time we get to know the herbs in depth with you among various different herbs  within the colors of the changing nature, and then try different traditional recipes accompanied by our chef.
In Urla, we celebrate the arrival of Spring on March 9th.  The Traditional Herb Festival of Urla is also celebrated in this week with the leadership of Slow Food Urla Community.
In this Table Hands-on Cooking Class, poppy flower has the leading part which is the princess of Urla's herb dishes in spring with its idiosyncratic savour and delicate texture. Join our Table Hands-on Cooking to meet it and to try new recipes with its sister herbs!
Attendance: min.8-max.12 people
https://www.youtube.com/watch?v=rO-rFl2-B-M